Partner programme
Of course you have the availability of our unique Mindtime Management System (MMS) and you can rely on Mindtime Backup's team of highly educated specialists.
Our team is there to support you in word and deed. And of course, your portfolio is complete with our backup solutions.
Which advantages do I have as a partner?
Mindtime Backup Works with an attractive pricing system. The more you sell to your customer, the cheaper it is for you to buy it from us. So there are also extra purchasing benefits for you as our partner.
Classification method:
Mindtime Backup has also developed a classification method for their partners. These are:
Registered Partner.
Certified Partner.
Gold Partner.
Registered Partner:
As registered partner of Mindtime Backup you can offer our Online Backup service to your customers as an IT-supplier. It means that you meet all the terms and requirements to offer our Online Backup services, which are also ISO/IEC 27001 certified.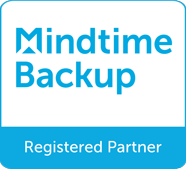 Certified Partner:
This means that the partner can offer maximum care to his or her customers and meets all terms and requirements to offer our ISO/IEC 27001 certified Online Backup solution. For this partners must demonstrate that they are able to meet the required level for installing, maintaining and managing their accounts.
At least 1 of the partner's employees must successfully complete the online training and have received the certificate from Mindtime Backup.
Gold Partner:
Mindtime Backup Gold partners are the high-level partners of Mindtime Backup. They have the right knowledge, skills and level of engagement to offer the correct and adequate Online Backup solutions.
Mindtime Backup Gold partners meet Mindtime Backup's strictest requirements, they are well trained and have a proven track record with Mindtime Backup software.
Several of the partner's employees must have successfully completed the online training and have received the Mindtime Backup certificate.
At least 2 of the partner's employees have successfully completed the Mindtime Backup course at the Mindtime Backup headquarters or at the partners' office.
The partner has at least 50 Online Backup accounts at Mindtime Backup.
On average 90% of the backup accounts at the partners' are running successfully.
Communication
As a classified partner you are authorised to use the logo on your website and in your communications. As our partner you can find this in the Mindtime Management System at Information.
Also you will regularly receive our newsletter with specific and relevant information.
And furthermore
If you are located in the Netherlands, a Mindtime Backup Engineer can visit you for 'on the job' training. But we can lead you through the Mindtime Management System and our backup software by Teamviewer and phone as well if you are not located nearby.
You can contact us to make an appointment.